Our Mission
Tick "INsiders" is a citizen science project to improve the prevention, diagnosis and treatment of tick-borne diseases in Indiana. Our mission is to better understand the risks of tick-borne diseases across the state, and improve health care for Indiana's citizens.
Our Challenge
Our challenge is to determine the range and incidence of tick vectors, and the pathogens circulating in Indiana's tick populations. Our team of entomologists conducts sampling for ticks at State Parks and other locations around the state. We sample for three tick species considered vectors of disease – the Lyme disease tick, Ixodes scapularis, the American dog tick, Dermacentor variabilis, and the lone star tick, Amblyomma americanum.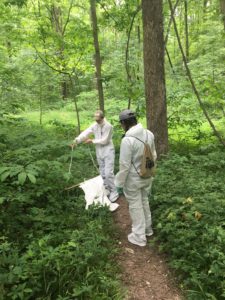 Ticks are analyzed at Purdue for hundreds of bacteria and viruses using a sequencing technique called "MiSeq". We use this information to develop detailed, region-specific disease-risk maps and educational materials for public health professionals.
You might see us out and about in Indiana State Parks in our white suits sampling for ticks. Please come speak to us if you would like to know more about what we do!
Citizen Science Opportunities for High School and 4H Students
Each year we seek highly motivated high school students (grades 9-12) with an interest in public health, infectious disease, entomology, and environmental science to join us on the Tick INsiders project in Spring-Summer. Students participate in a half-day field trip, and work with our team of researchers from the Department of Entomology to collect and analyze ticks.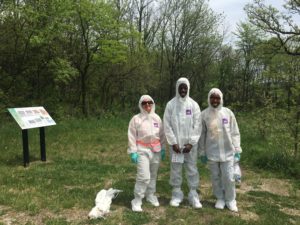 Collections take place at Indiana State Parks, and may occur either during a weekday or weekend between April and September. Applicants must be able to commit a half-day to collecting (maximum 3 hours on site, not including travel to site), and have the consent of their parent or legal guardian. A background in biology or entomology and previous experience in field research is strongly recommended. Students enrolled in 4-H (esp. entomology, wildlife, or shooting sports education) are particularly encouraged to apply.
Tick INsiders Student Day on Campus
Up to ten student participants are invited to the West Lafayette campus in late Fall each year to take part in a "Day on Campus." Students have the opportunity to shadow members of the Tick INsiders team in data processing and analysis, and tour the medical entomology laboratory and other research facilities. This "science immersion" is intended to highlight career opportunities in public health. Students will have the opportunity to meet with Professor Catherine Hill, Director of the Tick INsiders project, network with members of the College of Agriculture's Ag Ambassadors and office of admissions, and visit selected departments of interest.
How Can High School Students Apply to Join Tick INsiders Collecting Trips?
Applications open in early January and students are notified of selection in early April.
Please see https://tickinsiders.org/ticks/ or https://extension.entm.purdue.edu/publichealth/insects/tick.html for more information about ticks, tick habitat, and disease risks.
Participation in tick collection carries a small risk of exposure to ticks and tick-borne diseases. Reasonable precaution is taken to minimize contact with ticks, including provision of personal protective suits, gloves, repellent, and directions on the safe removal and disposal of ticks.
We are not accepting applications at this time. Applications will re-open in January 2019.