Our Mission
Tick "INsiders" is a community science project to improve the prevention, diagnosis and treatment of tick-borne diseases in Indiana. Our mission is to better understand the risks of tick-borne diseases across the state, and improve health care for Indiana's residents.
Our Challenge
Our challenge is to determine the range and incidence of tick vectors, and the pathogens circulating in Indiana's tick populations. Our team of entomologists conducts sampling for ticks at State Parks and other locations around the state. We sample for three tick species considered vectors of disease – the Lyme disease tick, Ixodes scapularis, the American dog tick, Dermacentor variabilis, and the lone star tick, Amblyomma americanum.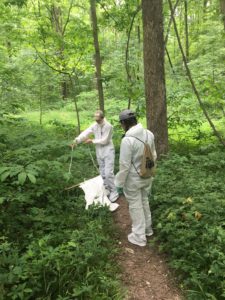 Ticks are analyzed at Purdue for hundreds of bacteria and viruses using a sequencing technique called "MiSeq". We use this information to develop detailed, region-specific disease-risk maps and educational materials for public health professionals.
Help Tick INsiders Sample for Ticks in Indiana: 2021 Community Science Opportunities
In 2019, we launched a new phase of Tick INsiders inviting Indiana residents to help us sample for ticks across all 92 Indiana counties. We are excited to continue these efforts in 2021! 
If you have recovered a tick crawling on you or your pet, you are welcome to send it to us for sampling. If you would like to collect ticks from your property, please follow the instructional videos available here. Unfortunately, we are unable to accept ticks that have already attached to the skin. To send ticks to Purdue, please place them inside a ziploc bag, and place the sealed bag into an envelope together with the following information:
Your name
Email address and/or phone number
Location where the tick was collected (City/County or Zip Code)
Collection date
Please address the envelope to:
TICK INSIDERS 
901 West State Street 
West Lafayette, IN 47907
Community Science Opportunities for Indiana High School and 4H Students: Join the Tick INsiders Team, Tick Collection Workshop and Day on Campus
Due to the situation with COVID-19, we are unable to accept applications from high school students at this time. Please check back with us regularly.
Each year we seek highly motivated high school students (grades 8-12) with an interest in public health, infectious disease, entomology, and environmental science to join the Tick INsiders project in Spring-Summer. We also offer students a one-day spring workshop on the West Lafayette campus on tick identification, field collection techniques, and how to send ticks to Purdue for analysis. Our educational workshops introduce students to the biology of Indiana ticks and common tick-borne diseases, and explore career paths in the fields of medical entomology, environmental science and public health. Participation in the workshop is not required in order to collect and send ticks to Purdue. In the fall, qualifying applicants have the opportunity to participate in a "Day on Campus" where they meet the TickINsiders team, tour facilities, and see science in action. This "science immersion" provides students with an insight into how their samples are analyzed and contribute to an understanding of tick-borne disease risk in Indiana.